Cat Chat News • January 2019
In This Issue...




 Heart Warming Happy Homings • 

Latest Cat Chat Homing Figures • Antifreeze Warnin
g • 
Cat Books Sale • Volunteer Opportunities • Overlooked Cats • Pet-Friendly Cottage Holidays
Trumpets, Drums & 10,000 Purrs!
We'd like to start the new year with something we don't often do, which is to blow our own trumpet!  Over the last year or so we've been compiling data of the number of cats who find homes through Cat Chat, and the results are in…

​
Drum Roll...  we are thrilled to announce that now over 10,000 cats & kittens are homed annually with Cat Chat's help! ​
This is a 25% increase since the last time we collated figures, three years ago in 2015. 
We are delighted that we are helping more cats than ever to find their forever homes. But we know there is still much more to do - and we aim to help many more cats find a home.  
A big THANK YOU to all the rescue centres and rehoming organisations who gave us feedback over the last year, and who let us know of some of their most heart-warming homings.  Here are just a few of the lovely comments we received in 2018:
Thank You also to all those lovely people who chose to Adopt - you are Fantastic!
For Cat Chat, it's onward and upward - until Every Cat is a Wanted Cat!
Our Happy Homings this week all have something in common; they are all shy or nervous cats. When past events make a cat shy or nervous, they often spend longer in rescue, because they may hide or hold back when potential adopters visit. Lucky for these cats below, their wonderful adopters had already 'met' them on Cat Chat, before meeting them in the fur...
Cats Protection - Trafford were first alerted to Star back in May, after a couple heard crying coming from inside a stack of tyres in their garden. This beautiful but very nervous calico tortie, had just given birth to four kittens! Not much was known about Stars' past, but her next owner would need to be someone 
patient, and prepared to give her time to settle. She needed to learn about the good things in life, like loving humans...
...then in December, Cats Protection - Trafford sent us the following wonderful news:
"Drum roll please… Star is now rehomed! We're pleased to say that the enquiry came through Cat Chat. Thank you for everything".
Whisky & Peanut
​Six month old kittens Whisky & Peanut (above) were callously dumped next to a busy A-road during last summer's heatwave. Terrified, hungry and thirsty, they hid in some bushes until, 
luckily
they were spotted by a dog walker, and​ Cats in Need (Nuneaton & Hinckley) were called in to rescue them. Little Peanut; the smaller of the two, loved a fuss, but Whisky was shy and needed lots of time and patience to help him over his trauma, and to trust people again.​
A few weeks ago, we received this wonderful news from Cats in Need:
​
"Whisky and Peanut have now found their new home, where they are the centre of their new owner's world. Huge thanks to Cat Chat".
​
Princess
Princess is a beautiful blue Tortoiseshell cat. She was extremely nervous when she was taken in at Maesteg Animal Welfare Society, Bridgend, as she had come from a very unsettled and chaotic environment. Princess arrived with her 6 month old kitten, and another litter of kittens she had had some weeks before. Princess was then spayed, and it was hoped she would find a nice quiet home where she would be looked after...
We were overjoyed to hear the following news from Maesteg Animal Welfare Society:
"Hi, Princess has been homed via Cat Chat!".​ 
The society also told us:
​
"We have had some tremendous homings as a result of CatChat. Thank you so much for this site, it's the only one we trust to advertise our cats."
​
Winning the trust and love of a nervous cat could be the most rewarding thing you ever do! Ask about 
nervous
 cats at your local shelter: UK & Ireland Cat Shelter Directory
The freezing cold weather has arrived, and most of us will be checking/topping up our Antifreeze!
Now is a good time for a reminder about the danger of Antifreeze...
Ethylene Glycol (the main ingredient in antifreeze) is extremely poisonous to humans and animals alike. For a cat, ingesting as little as a teaspoonful can prove fatal. Please take care when using Antifreeze. Here are some tips:
• Don't use antifreeze when children or pets are around
• 
Clean up any spills thoroughly
• 
Close the cap tightly after use
• 
Store the product in clearly marked sealed containers
• 
Check vehicles regularly for antifreeze leaks
At first, a poisoned cat may just seem out of sorts or be extra thirsty. They may also appear wobbly, sleepy, and may start to drool or vomit.  If you suspect your pet may have ingested antifreeze, it is extremely important to seek Vet help as soon as possible. Find a Vet Near You
There is a type of antifreeze that contains Propylene Glycol, which is much less toxic than Ethylene Glycol. An animal would have to consume a lot more of this type of antifreeze, to become ill or to die. Consult your vehicle's owner manual, or talk to a mechanic if you are considering swapping to the safer product.
For more advice on keeping pets and wildlife safe in icy weather, visit our
Volunteer Opportunities Now Available
Love cats and want to help? Then this could be just what you are looking for… We have two Volunteer Vacancies currently available!
(Applicants must be 18 or over and resident in the UK or Ireland)
These cats have been waiting many months in rescue for someone to adopt them: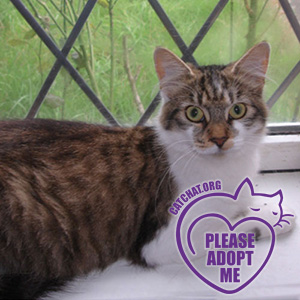 Hildy is a very playful girl, who loves any toy she can lay her paws on. She has been at the rescue shelter for a year now. She can be a little feisty and will let you know when she doesn't want your attention anymore, so would suit an adult only home. She will sit on your lap for a short while, but is happy just being in the same room so she knows you are there. Hildy will make a fabulous companion for the right person.
Hildy is at Independent Cat Rescue, Dewsbury, West Yorks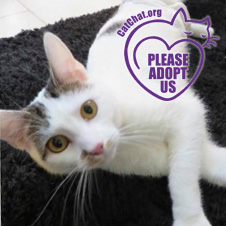 Pixie has been at Purrs Cat Rescue for some time. She had a tail injury and has been left with incontinence issues. She is looking for a home where she can spend time outside in a warm and safe space, but will also be able to spend time indoors with humans as she is a real people cat. Pixie met Blackchops at the shelter and they have become inseparable friends. Blackchops loves his food! Regular meals have helped him to learn to trust again. 
Pixie & Blackchops are at Purrs Cat Rescue, Hornchurch, Essex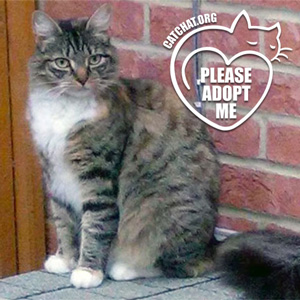 Princess McFluff is a tabby and white 3 year old, who has been waiting for a home for almost a year. Princess is a shy, nervous cat, who needs a home with no children or other pets. She is loving once she gets to know and trust you. Princess is not likely to be a lap cat, but she does like affection and will come to you for head rubs and fusses. She needs a patient human who will allow her to come round in her own time. Her rescuers believe that she will flourish in the right home.
Princess Mcfluff is at Cat Welfare Wisbech, Cambs
The Getaway that Gives...
With the short days, cold weather and the glow of Christmas now a distant memory, it's no wonder January is a busy month for holiday bookings! If you are looking for that all important get away, we have a suggestion:
Sykes Holiday Cottages are supporting Cat Chat by donating 10% of the cost of all bookings made via a special 'Cat Chat' telephone number 01244 746602
​
Sykes 
Holiday Cottages
have everything from three-night short breaks to weekly or fortnightly holidays, at over 12,000 holiday cottages across the UK and Ireland..
With cottages in the country, luxury holiday homes near the coast, pet-friendly cottages, large holiday homes, cottages with hot tubs, you are sure to find something to suit you.
To ensure your booking results in a donation for Cat Chat, call Sykes Holiday Cottages on this dedicated phone number: 01244 746602.
Happy holidays!
Once you've booked your Sykes cottage holiday, you'll also want to ensure that your feline family members get the best possible cattery experience while you're away. Visit our
Choosing a Boarding Cattery
page, kindly sponsored by
Find Pet Boarding
.​
Noticed anything different on the Cat Chat website recently? Of course you have!  Our brand spanking new logo (great job Ian!) was launched on the website over Christmas, and we have already had some lovely feedback.  We hope our new logo will help us get noticed, and help in our quest to find homes for even more cats!
Until next time - please join us on Social Media...
We never pass email addresses on to others.
If you no longer wish to receive our monthly updates, please click 'Unsubscribe' below.