Cat Chat News • October 2018
Welcome to our October Update!
In this BUMPER issue: Latest Happy Homing News • Cat Chat on board the Ross Revenge • Yorkshire Marathon Success • WIN a Feliway Diffuser • Tabby McTat news, and Lots More, so Grab a Cuppa...
Cat Chat Founders Visit Radio Caroline
If you listen to Radio Caroline, you will almost certainly have heard Cat Chat's distinctive radio advert.  Last month, Cat Chat founders Mandy and Steve were lucky enough to visit the Radio Caroline ship, the Ross Revenge during their Live broadcast weekend. They met some of the DJ's helping us by playing the Cat Chat advert – and had a tour of the iconic ship. 
Mandy said "It was really fascinating seeing round the Ross, and we even spent time in the studio whilst they were broadcasting. The DJ's and crew are such a lovely bunch, and are genuinely pleased to be helping us promote cat adoption. One of the 'jocks', Johnny Lewis and his wife are involved with dog rescue, and have nine rescue dogs of their own!"​
A second version of our advert is currently in production, which will highlight the 'Overlooked' cats, so listen out for that soon. We can't thank Radio Caroline enough, for playing our ad several times each day, helping us reach even more potential cat adopters!
 
Tune in to Caroline on-line at www.radiocaroline.co.uk or on your radio at 648 AM / or DAB (certain areas only)
Sasha was 12 years old when she was taken in at Cats Protection, Glasgow. her beloved owner had passed away, leaving Sasha bereaved and agitated. She is an independent lady who enjoys occasional fuss, but can understandably be moody sometimes. Sasha had a tendency to hiss or swipe anyone who doesn't understand when she wants to be left alone. Because of this, she needed an adult only home where she would be the only pet, and could relax and learn to trust again.
Glasgow Cats Protection told us,
"Hi, Just to let you know we had a successful application for Sasha after her adopter saw her post on Cat Chat. Sasha has now gone off to her new home!"
Cats as young as 8 or 9 years get overlooked, even though these days that's just middle aged!
See our top ten reasons for Adopting an Older Cat
Marzipan
Marzipan (Mazzi) was found wandering with a nasty cut on his hind leg. A kind member of the public took him to a vets, where his wound was treated. Attempts to trace his owner sadly failed. When he was neutered and fully healed his rescuers at Maesteg Animal Welfare Society, Bridgend, set about finding him a loving home. Mazzi is quite a boisterous juvenile, who tends to play hard and would sometimes accidentally bite. He needed an experienced cat person who would be firm but not cross with him, to help him calm down.
Marzipan was spotted on Cat Chat, and has now gone off to his new forever home!
Cats aren't aggressive just for the sake of being aggressive. Understanding the reasons behind this kind of behaviour will help find the solution, resulting in a happier cat and happier owner.
Visit our "Aggressive Behaviour in Cats" page for more information.
Cinderella
Cinderella (Cindi) had been in rescue for over two years at Bentham & District Pet Rescue,
North Yorkshire
 This poor girl had certainly had enough of life in a pen! Cindi had experienced difficulties in the past which made her difficult to handle. She is also 11 years old, and was being overlooked in favour of younger cats for adoption. Cindi's rescuers needed to find an experienced cat person, to help her overcome her fears. So they offered to help with food, litter and vet fees through their long-term fostering scheme.
Cindi's rescuers told us
, "After 2 years in rescue Cindi was spotted on Cat Chat.  Initially she had a 'trial stay' with her new owners, which was successful, so Cindi now has her forever home!"
Most rescue shelters have long waiting lists of cats needing to come in, and not enough room to take them all - one extra foster home (long or short term) could make the world of difference!
Find out more on our Cat & Kitten Fostering page.
Tabby McTat - Helping Spread the "Rescue" Message​
This autumn, Freckle Productions are touring a live UK-wide production of the popular children's story, Tabby McTat by Julia Donaldson.
 
Since the cat is the central character in the production, the company wanted to help spread a positive message to young audiences about cat rescue and adoption. Cat Chat is delighted to have been chosen to partner with Freckle Productions to achieve this aim. 
 
Cat Chat's role is to provide all the relevant information about cat adoption, as well as the importance of neutering and microchipping. We were also able to offer guidance regarding rehoming organisations in the areas where the production is playing, to enable them to spread awareness, and encourage adoption locally.
 
It is vital that youngsters are made aware of the importance of rescuing a pet – and where to go to adopt - as they are the cat adopters of the future!  
 
The Tabby McTat tour runs from 5th October to 17th December - details here:
https://www.freckleproductions.co.uk/shows/tabby-mctat
2018 Stephen Memorial Book Award
The 2018 Stephen Memorial Book Award – for books with distinctive cats, has been won by "The Three Kitties that saved my Life" by Michael Meyer; a biography of troubles and the rescued cats (& Kitty) that pulled him through it.
The three runners up were:
Cat Magic – Sir Kipling, the magical cat,  in his own adventure

The Creatures of Chichester – Purrcasso, the art galley cat, dealing with ghosts

Familiar Trials – Dascha, the determined and brave familiar
This years competition was in support of Cat Chat, and the event raised enough funds for us to find homes for 20 cats! Hearty purrs of thanks to all involved!
Christmas Has Arrived in the Cat Chat Webshop!
Start your preparations for a feline, fun packed Christmas in the Cat Chat webshop…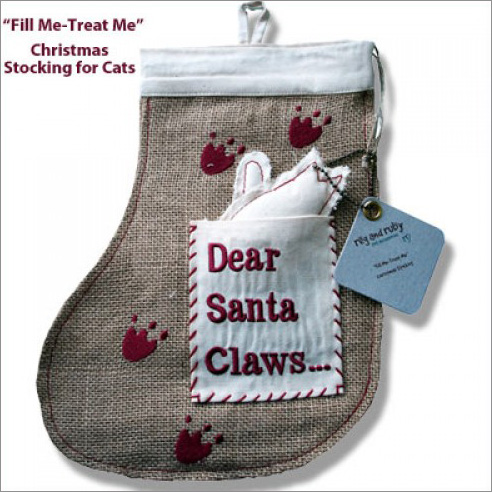 Fill Me - Treat Me
Every discerning moggy should have his or her own Christmas stocking. These hessian stockings are perfect for stuffing with your cat's favourite treats and toys, and hanging up on Christmas Eve. Treats are not included, (but there is a catnip fish toy in the front pocket, as a little extra gift from Santa Claws!)​
There are lots more great gifts for cats and cat lovers in the Cat Chat Webshop!
​Every purchase from our shop helps more cats out of shelters and into homes.
Before considering what kind of cat to adopt, please spare a thought for those cats who, through no fault of their own, have spent many months in rescue shelters, like these...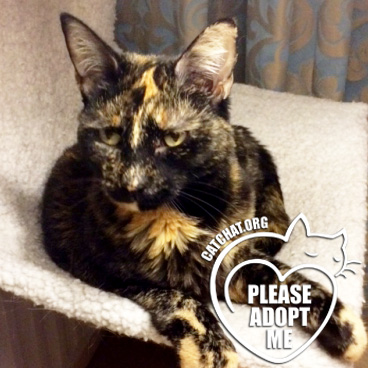 3 year old Elsa was found living under a conifer tree with no-one to look out for her. Past experience has left Elsa very shy and nervous, and she needs a caring, patient human, who will allow her to blossom and gain confidence at her own pace. Once you gain her trust, she will be the most loyal of friends. Elsa would like a home with no children or dogs. She'd like a cat flap, so that she can venture outside but will know she can get back in when she needs to. 
Elsa is at Lincs. Ark Animal Welfare, Boston, Lincs.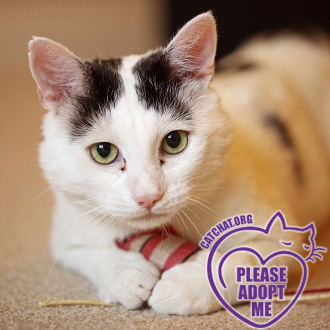 Timmy is 3 years old and regularly demonstrates his laid back, relaxed and - let's be honest - lazy nature! He does play, for a few moments but then needs a cat nap; he is looking for a relaxed home where he can snooze to his heart's content, and have his belly filled regularly. Timmy is a friendly lad, who will call to 'remind' you when it's dinnertime. He'd like a home where he can laze around looking cute, and have you adore him for it!
Timmy is at Animal Accident Rescue Unit, Notts​.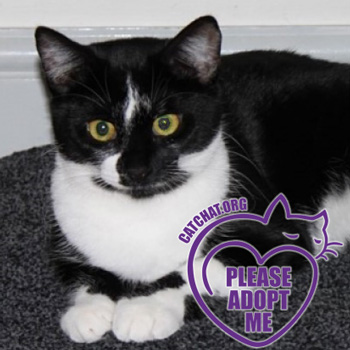 Although 2 year old Trinitiy (Tintin) was found as a stray,  she still seemed to be comfortable around people. She was taken into a foster home to see if she could settle in to a proper home environment. But despite all the love and confidence building, she didn't improve. So Tintin needs an outdoor home, food and shelter are provided, and she can choose to interact with her humans on her own terms. Do you have stables or outbuildings in need of mouse patrol?
Trinity is at Midlands Animal Rescue Team, Walsall, West Midlands
Please consider adopting an overlooked cat - it could be the most rewarding thing you ever do!
Yorkshire Marathon - Success!
If you saw our recent bulletin, you'll know that Peter Hanson of The Cat Gallery, ran the Yorkshire Marathon on 14 October to raise funds for Cat Chat, and International Cat Care.
"Congratulations!" to Peter, for completing the 26.2 mile course in just 3 hours 39 minutes and 44 seconds, which is a new 'personal best'. It rained throughout the run, and got progressively colder as the morning went on. Peter said his hands were freezing by the end, and that the last few miles were very tough going!
 We are so grateful to Peter for his tireless efforts to help cats, and big thanks to all who have sponsored him on this run.  

You can still support Peter, even though the race is complete: MyDonate Page
Fireworks advice from Feliway - The Secret to Happy Cats
The aim over the fireworks period is to keep cats safe and away from harm. They need to be protected from loud noises to prevent getting lost or injured.
​
The Top Three Tips to keep cats safe and happy this fireworks season are:
(1) Create a hiding place - cats love to be up high, somewhere warm where they can hide.
(2) Plug in FELIWAY® CLASSIC to ensure safe and secure messages are surrounding them. Just plug in a diffuser where you cat spends most of their time - two weeks before fireworks begin and keep it on at all times until 'firework season' has passed.
(3) Keep them away from the bang! As follows...
Feed cats early in the day to ensure they are back indoors before dusk, and then keep them inside. If left outside, cats may run from firework noise and then get lost. 

Leave the TV or radio on - even if you go out - to muffle the fireworks' noise.

Once your cat is indoors, close curtains and doors, and lock the cat flap.

If your cat usually toilets outdoors, provide additional litter trays when kept inside.
FELIWAY® CLASSIC is the ideal support tool. It contains a synthetic copy of the Feline Facial Pheromone that cats release when marking their environment as safe. In the run up to fireworks season, now is the time to prepare!
PRIZE DRAW - WIN a FELIWAY DIFFUSER
We have 3 Feliway Classic Diffusers up for grabs!
To enter, just email your name (1 entry per person) to: prize.draw@catchat.org by midnight on Saturday 27th October, 
and we will choose three winners at random. Good luck!
New Cat Chat Volunteer Vacancy
We are seeking a new Links Section Administrator to manage and develop the Links Section of the Cat Chat website. Applicants must be computer literate, with a basic knowledge of spreadsheets, website links and html tags. Hours are flexible, totalling approximately 2 hours per week (more if the post holder wishes).
Until next time - please join us on Social Media...
We never pass email addresses on to others.
If you no longer wish to receive our monthly updates, please click 'Unsubscribe' below.